When you think of the typical sports fan, you probably don't imagine anything resembling a woman. The female sports fan is a rare breed that appreciates competition and embraces the atmosphere surrounding the biggest sporting events. Yet, an even rarer breed exists beyond female sports fan: the ridiculously hot sports fan, who cheers for their favorite sports teams, looks good while doing it, and dates the players. Their love and dedication for sports is second to none, and the fact that they are famous makes them that much more appealing.
From the four major sports stateside to powerhouse European soccer teams, there are plenty of hot sports fans to go around. We've rounded up the hottest, including your favorite actresses, singers, and supermodels. Play ball!
50. Carrie Underwood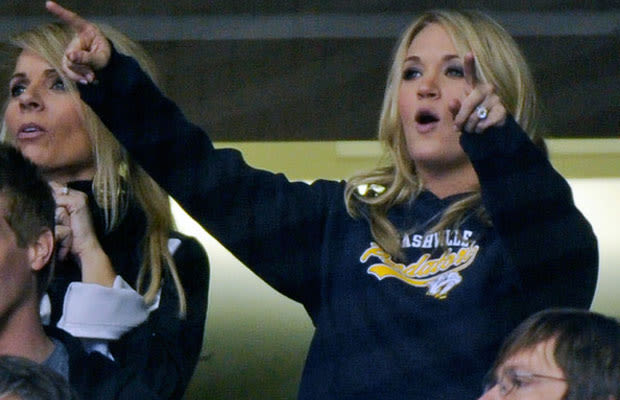 Favorite Team(s):
Dallas Cowboys (NFL), Ottawa Senators (NHL), Nashville Predators (NHL)
Dated An Athlete?:
Tony Romo (Quarterback, Dallas Cowboys), Mike Fisher (Center, Nashville Predators)
Honestly, who would argue with the idea that being a country star begets football fandom? Carrie Underwood is more evidence to the fact. The singer, who once dated Cowboys QB Tony Romo, attended multiple Cowboys games and performed during the team's Thanksgiving game halftime show in 2006. Fortunately, Underwood hasn't had to change her favorite NFL team after breaking up with Romo, she's married to NHL star Mike Fisher, a former Ottawa Senators player who's now with the Nashville Predators.
49. Kendra Wilkinson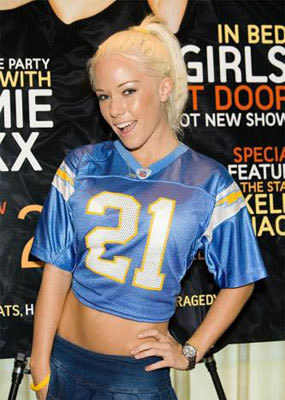 Favorite Team(s):
San Diego Chargers (NFL), San Diego Padres (MLB)
Dated An Athlete?:
Shawne Merriman (NFL Linebacker, Current Free Agent), Hank Baskett (NFL Wide Receiver, Current Free Agent)
Maybe it was the intro to
The Girls Next Door
but we somehow summed Kendra Wilkinson up as a type of girl like Sporty Spice. Her dream was to be a sports announcer while she was Hugh's girlfriend, and we've got to give props to the Bunny—she stayed a Chargers fan despite being then-engaged to an Eagles player.
48. Jennifer Garner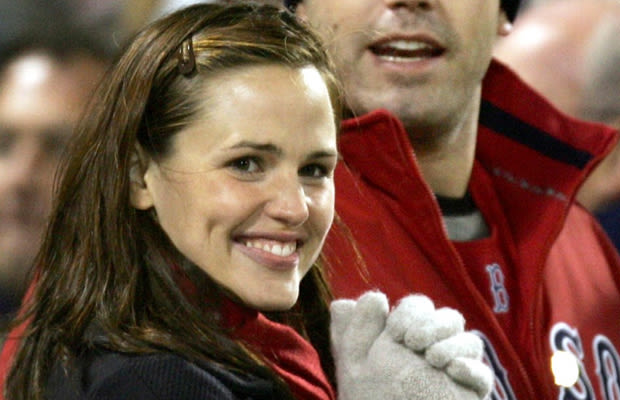 Favorite Team(s):
San Francisco 49ers (NFL), Boston Red Sox (MLB), Boston Celtics (NBA)
Dated An Athlete?:
No
Garner has her husband, Ben Affleck, to thank for her love of baseball and the Boston Red Sox, but she obviously just isn't in it for the hubby brownie points. Garner impressed Leno fans by reciting the Sox's lineup on live TV. Plus, she doesn't side with her husband's New England roots on everything, she is a diehard San Francisco 49ers fan.
47. Audrina Patridge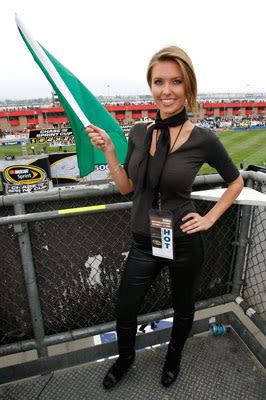 Favorite Team(s):
NASCAR (Unspecified drivers)
Dated An Athlete?:
Corey Bohan (Dirt Jumper, Moto X)
When you think of the typical NASCAR fan, we're pretty sure
The Hills
star Audrina Patridge is probably the last person on earth you'd expect to follow the sport. Despite your disbelief, yes, Audrina is quite the NASCAR enthusiast. Although she doesn't make it to many of the actual races, you better believe she enjoys attending the pre-race mixers and brand-sponsored afterparties. What else could you expect from the former reality TV star turned socialite?
46. Elizabeth Banks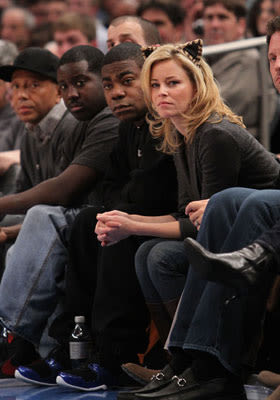 Favorite Team(s):
New England Patriots (NFL), Portland Trail Blazers (NBA), Boston Red Sox (MLB)
Dated An Athlete?:
No
There's a reason why Banks played the perfect commentator in
Pitch Perfect
, she's a huge sports fan. She and her husband (Max Handelman, author of
Why Fantasy Football Matters
) are huge football fans, and she supports the Patriots and the Red Sox. She says it's impossible for her to support any New York or LA team. Which is fine, we won't bring up this year for the Sox, a.k.a. their worst home season in 47 years.
45. Lady Gaga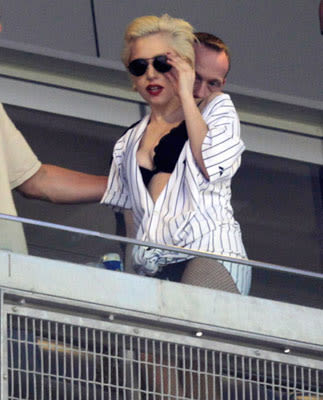 Favorite Team(s):
New York Yankees (MLB), New York Giants (NFL)
Dated An Athlete?:
No
We're not sure if Lady Gaga is more a Yankee fan or a whiskey fan. After being banned from Shea stadium games after flipping the bird to Mets fans, she went to a Yankees game dressed in underwear, fishnets, and a jersey. Afterward, after swigging beer throughout the game, she snuck her way into the clubhouse and drank whiskey while trying to meet the players and groping her own breasts.
44. Kate Middleton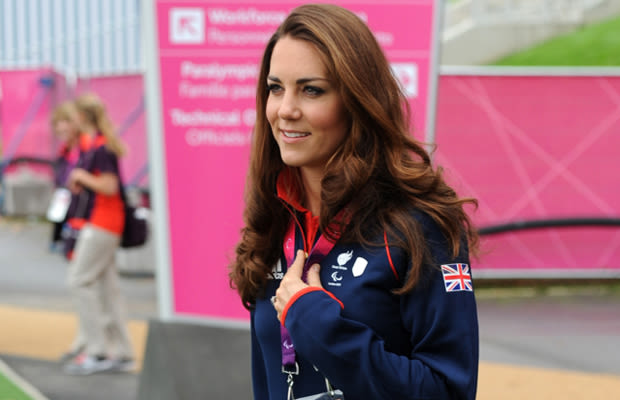 Favorite Team(s):
Great Britain (Soccer), Great Britain (Field Hockey)
Dated An Athlete?:
No
Now that she's married into the royal family, the expectation is that Kate Middleton will show her unconditional support for the national soccer team. If you didn't already know, soccer is kind of a big deal in England, and if you don't follow it religiously, you are definitely in the minority. Seeing as how Prince William and Kate are England's most talked about couple, it's hugely important that they attend the biggest sporting events, including the London 2012 Olympics.
While William was shaking hands and welcoming the visiting athletes, Kate laced up her trainers and hit the turf to train with England's Olympic field hockey squad. Now that's leading a country by example.
43. Keira Knightley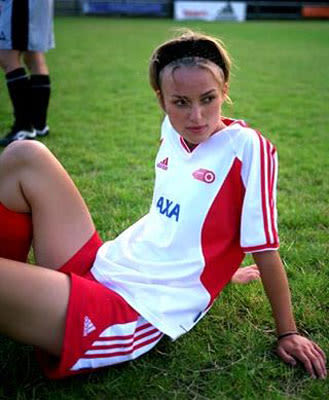 Favorite Team(s):
West Ham United F.C. (Soccer)
Dated An Athlete?:
No
Keira Knightley didn't just pick up a love for soccer after starring in
Bend It Like Beckham
, the English actress has been tracking West Ham's progress for years. When West Ham United was promoted to the Premiere League in 2005, Knightley would get up a six a.m. to catch their games at a local pub in Santa Monica.
42. Lily Allen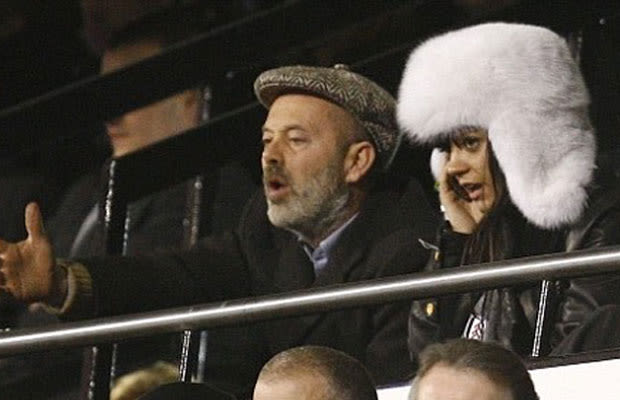 Favorite Team(s):
Fulham F.C. (Soccer)
Dated An Athlete?:
No
Being from London, Lily Allen has more than a few options when it comes to supporting a local football club. Sure, there are obvious choices in perennial Champions League contenders Chelsea and Arsenal, and even Tottenham Hotspurs, but Lily Allen isn't your typical female sports fan whose allegiance is tied to whomever finishes in the top four in the Premiereship. Nah, she's a loyal fan of Fulham FC, a team that doesn't boast a large payroll or have the stadium to draw new fans like other clubs owned by foreign billionaires. Nonetheless, Lily Allen regularly attends games and
rides the emotional rollercoaster
that goes hand in hand with following a mid-table football club in the EPL.
41. Aubrey O'Day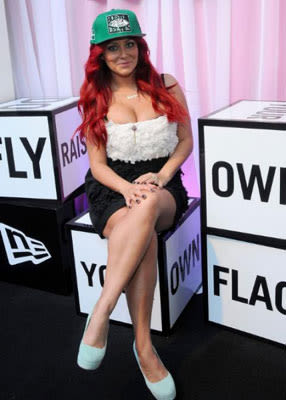 Favorite Team(s):
Boston Celtics (NBA)
Dated An Athlete?:
No
The former member of Danity Kane has a lot of superstitions when it comes to her team. She wears a special pair of panties for the Celtics, and even took an impromptu redeye flight from LA to make the last 2012 Eastern Conference Finals game. Proving the point that she bleeds green, the singer/actress stripped down to a pair of heels and green paint for
Slam
magazine.
40. Katy Perry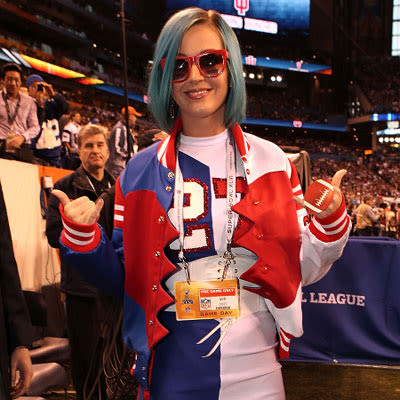 Favorite Team(s):
New York Giants (NFL)
Dated An Athlete?:
No
Perry may have only become a Giants fan after their Super Bowl win, but that doesn't mean she isn't trying. In fact, she's making up for years of her absent support by wearing enough Giant paraphernalia that it looks like the franchise exploded on her.
39. Demi Lovato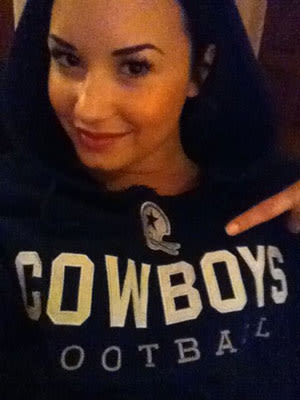 Favorite Team(s):
Dallas Cowboys (NFL)
Dated An Athlete?:
No
It's not that hard to figure out why Lovato became a Cowboys fan, and we're not just talking about the fact that she's from Texas. Lovato's mom was a Dallas Cowboy cheerleader. In fact, her mom wasn't the only one performing for the Texas team, Lovato sang for the Cowboys' Thanksgiving game in 2008, and sang the national anthem against the Seahawks in 2011.
38. Zooey Deschanel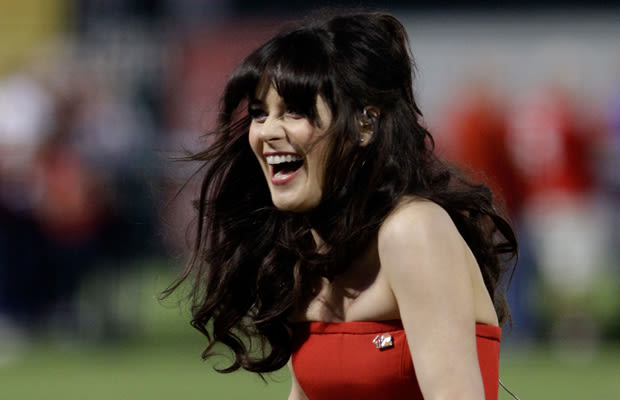 Favorite Team(s):
San Francisco Giants (MLB)
Dated An Athlete?:
No
Even though Deschanel grew up in L.A., she supports another California team: the San Francisco Giants. She made it to every game when her team was in the 2010 World Series, and sang the national anthem when they played the Phillies during the National League Championship. The quirky actress even co-manages her own fantasy baseball team, the Burbank Puppies, which is easily the cutest thing we've ever heard.
37. Selena Gomez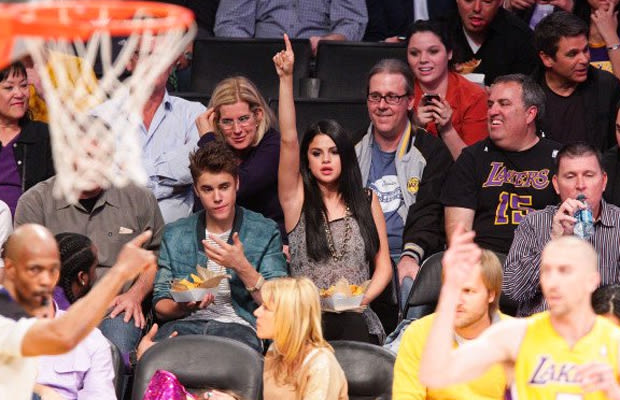 Favorite Team(s):
San Antonio Spurs (NBA)
Dated An Athlete?:
No
Numerous pictures of Gomez and boyfriend Justin Bieber have surfaced of them enjoying a Spurs game, and Selena is a lot more into it than the Biebz. After the Kiss Cam focused on the couple, while Selena was probably gloating about the Spurs win against Bieber's Lakers, she tweeted out a supportive message for her home-state's team.
36. Diane Kruger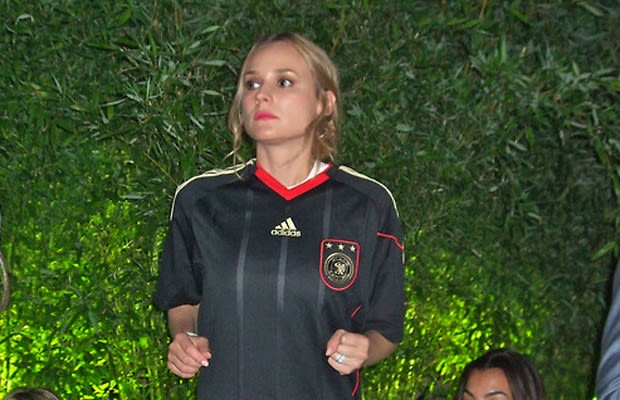 Favorite Team(s):
German National Team (Soccer)
Dated An Athlete?:
No
Forget the hype around David Beckham and the L.A. Galaxy in Hollywood, actress Diane Kruger is true to her German roots when it comes to rooting for a team, listing the German National Team as her favorite. Kruger is such a huge soccer fan that she even wore their jersey over her dress at a party. See above.
35. Cameron Diaz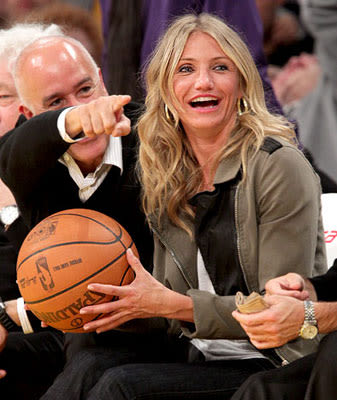 Favorite Team(s):
Los Angeles Lakers (NBA), New York Yankees (MLB)
Dated An Athlete?:
Kelly Slater (Surfer), Alex Rodriguez (Third Baseman, New York Yankees)
Cameron Diaz has been linked to pro athletes both in movies and in real life. In the 1998 comedy
There's Something About Mary
, Diaz's character dated NFL star Brett Favre. In the 1999 Oliver Stone-directed
Any Given Sunday
, her character was the object of lust for Willie Beaman (Jaime Foxx) and his teammates. In 2010, Diaz began dating MLB slugger Alex Rodriguez, instantly making her a Yankees fan. The two maintained a public relationship until it ran its course and the chemisrty fizzled out by 2011. Nevertheless, Diaz has been established herself as quite the sports fan, attending games L.A. Lakers games regularly, and even scoring
quality camera time
during the Super Bowl.
34. Olivia Wilde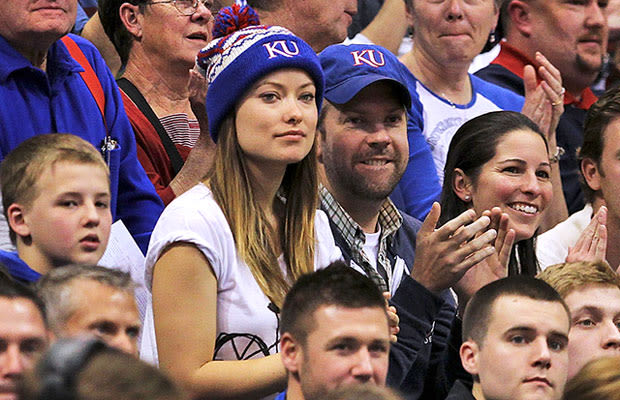 Favorite Team(s):
University of Kansas Jayhawks (NCAA Basketball)
Dated An Athlete?:
No
Olivia Wilde could be considered a fairweather fan; she adopted her admiration for the Kansas Jayhawks while dating
Saturday Night Live
funnyman Jason Sudeikis, who grew up in the Sunflower State. But like the University of Kansas basketball team, we wouldn't complain if Wilde hopped on our bandwagon. In fact, we'd blow her up on the jumbotron, too.
33. Meagan Good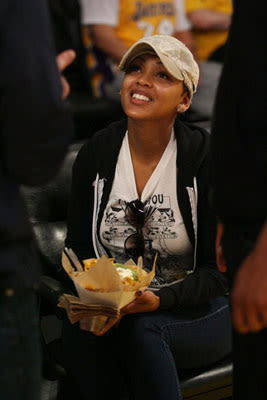 Favorite Team(s):
New York Jets (NFL), Los Angeles Lakers (NBA)
Dated An Athlete?:
Thomas Jones (Former Running Back, Kansas City Chiefs)
If you look like Meagan Good, chances are you will have rappers and professional athletes lining up around the block to get a piece of you. For the most part, Good stayed away from the ball players, but when you're a sports fan, it's hard not to indulge in your desire to go out with a least one athlete just to see what it's like. Meagan Good and Thomas Jones got together in 2007, right around the time he was dealt from the Bears to the Jets. Good was such a huge fan that she tattooed Jones' name on her finger. Unfortunately, relationships with pro athletes don't last as long as tattoos, and the two parted ways in 2010.
32. Hilary Duff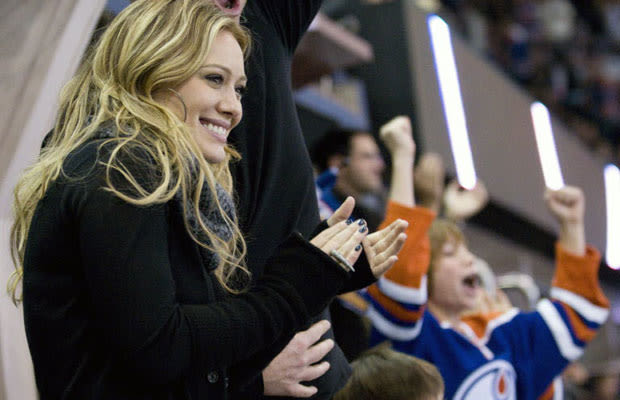 Favorite Team(s):
Edmonton Oilers (NHL)
Dated An Athlete?:
Mike Comrie (Former Center, Edmonton Oilers)
Was Hilary Duff a fan of the Edmonton Oilers before she met her husband and former NHL star Mike Comrie? Probably not. The two met on a plane while they headed to Idaho to vacation with mutual friends. Nevertheless, the bottom line is that she became a fan, a huge one at that. The 25-year-old singer-actress was often spotted in the guest suites cheering on Comrie until his retirement in 2010. She was handsomely rewarded for her dedication and support with a sizable diamond ring and a fairytale ending.
31. Shakira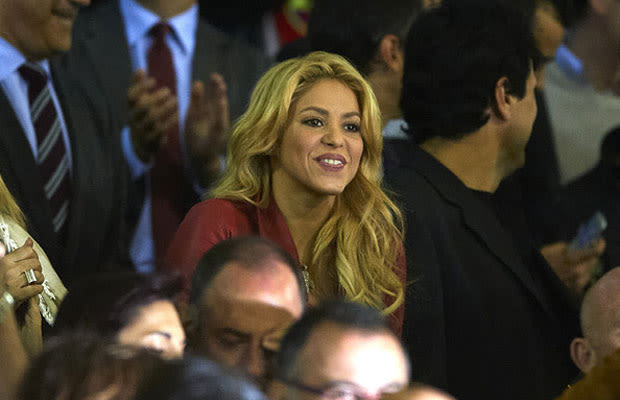 Favorite Team(s):
Real Madrid (Soccer)
Dated An Athlete?:
Gerard Piqué (Center Back, FC Barcelona)
It's not clear whether Shakira has always been a soccer fan or if she recently jumped on the bandwagon after hooking up with current boyfriend, FC Barcelona star Gerard Piqué. Either way, it doesn't diminish the fact that she's is one of the hottest celebrity sports fans to put on a jersey and cheer for her team. In her case, there is much to cheer for, as Barça has been on a roll, having won La Liga, Copa Del Rey, and Champions League titles in the past couple years alone.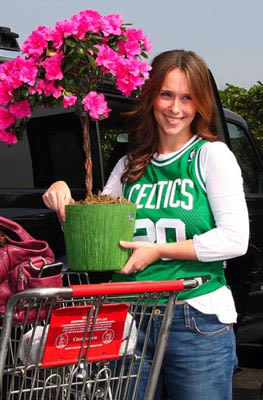 Favorite Team(s):
Boston Celtics (NBA), Celtic F.C. (Soccer)
Dated An Athlete?
: No
Jennifer Love Hewitt is not only one of our biggest actress crushes of the '90s, but she is also a huge sports fan. In fact she supports teams both in America and Europe. Yup, she has taken her fandom international, from the Boston Celtics to Celtic F.C. in Scotland. A soccer
and
a basketball fan? Now that's next level.
29. Amanda Seyfried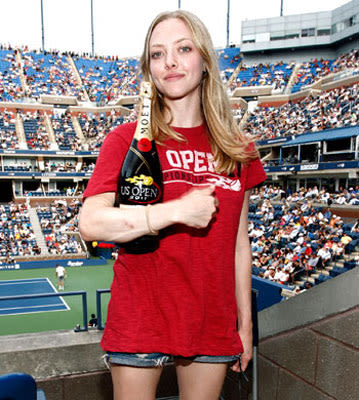 Favorite Team(s):
Tennis (Unspecified players)
Dated An Athlete?:
No
Amanda Seyfried isn't content sitting in the stands watching other people play tennis, she's been known to pick up a racket and put in work on the court. In a 2010 interview, the 26-year-old actress revealed she played tennis frequently with director Gary Winick while filming
Letters to Juliet
. Though she wasn't exactly scorching the competition like Serena Williams, the fact that she actually plays the sport she follows, which can't be said about the majority of sports fans out there.
28. Erin Andrews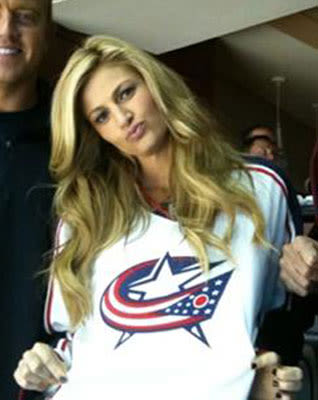 Favorite Team(s):
Columbus Blue Jackets (NHL)
Dated An Athlete?:
No
Erin Andrews loves sports—so much so, in fact, that she has dedicated her life's work to it. The 34-year-old hottie, who got her start as a reporter for the Tampa Bay Lightning, made a splash when she landed her first gig at ESPN in 2004 and she has been built quite the following ever since. Although she hasn't gushed over any team in particular (though she's been spotted in a Blue Jackets jersey), she still knows stats, scores, and sports history better than the average Joe, which boosts her sex appeal into rare territory.
27. Olivia Munn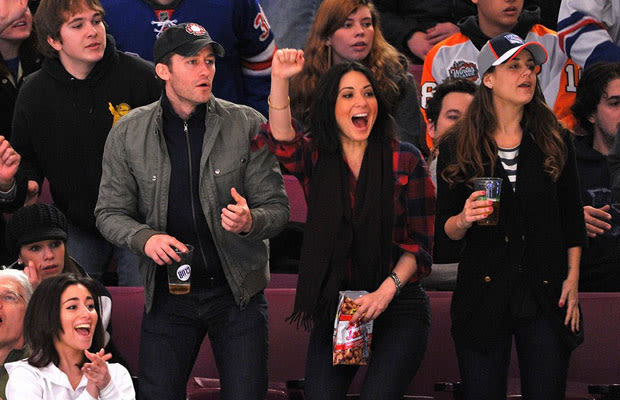 Favorite Team(s):
Oklahoma Thunder (NBA)
Dated An Athlete?:
Brad Richards (Center, New York Rangers)
Born in Oklahoma City, OK, Olivia Munn waited a long time for a professional sports franchise to post up and call it their home. Since Kevin Durant and the Thunder made the move from Seattle to OKC, the 32-year-old actress has been an avid supporter. Don't believe us? Check out her Twitter feed during NBA season. She reps her team hard, and that type of loyalty and devotion makes her that much more desirable.
26. Elisha Cuthbert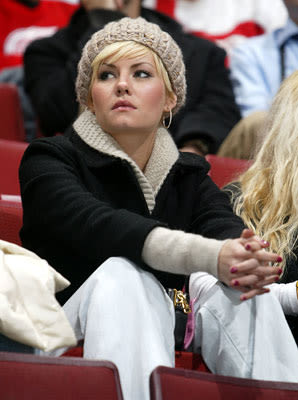 Favorite Team(s):
Los Angeles Kings (NHL), Toronto Maple Leafs (NHL)
Dated An Athlete?:
Shaun White (Snowboarder), Sean Avery (Defensemen, New York Rangers) Mike Komisarek (Defensemen, Toronto Maple Leafs), Dion Phaneuf (Defensemen, Toronto Maple Leafs)
Cuthbert may have abandoned her hometown of Montreal's NHL team, but she's still a dedicated hockey fan, specifically her new home's L.A. Kings. The actress even used to run a blog about the sport on NHL.com. However, given her fiance plays for the Toronto Maple Leafs, it looks like she's switching teams once again.
25. Vanessa Hudgens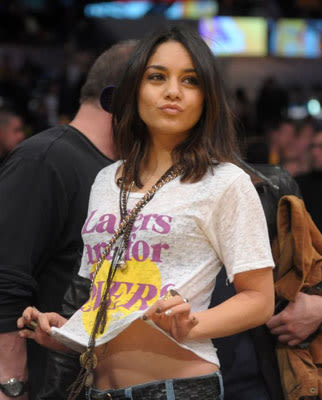 Favorite Team(s):
Los Angeles Lakers (NBA)
Dated An Athlete?:
No
Like many other celebrities, Vanessa Hudgens is no stranger to the premium courtside seat at the Staples Center. What differentiates her from the other celebs is she actually attends with the intention of spurrig her team on to victory, whereas other celebs go for the sake of making that week's run of gossip rags. Nevertheless, the former Disney star throws down for her L.A. Lakers, and that's not something that can be said about the casual sports a fan.
24. Megan Fox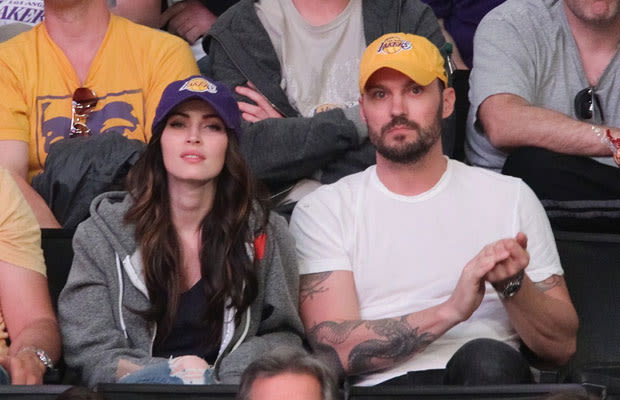 Favorite Team(s):
Los Angeles Lakers (NBA)
Dated An Athlete?:
No
The allure of the Staples Center draws tons of celebrities courtside to every Lakers game. It's almost always guaranteed to be a star studded event, and one of the hottest fans happens to be actress Megan Fox. The former
Transformers
star has been spotted numerous times watching the Lakers with her husband Brian Austin Green.
23. Ciara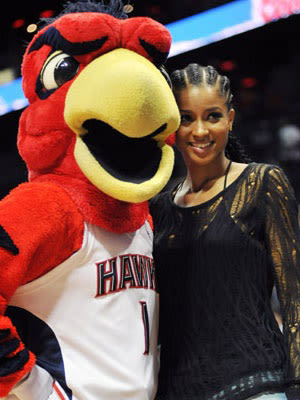 Favorite Team(s):
Atlanta Hawks (NBA)
Dated An Athlete?:
Amare Stoudemire (Power Forward, New York Knicks)
Record clearly doesn't matter to Ciara, whose hometown loyalty takes precedence over all the top NBA teams. The singer, who is often spotted courtside at games and once had the honor of announcing the Hawks' starting lineup, has been a steadfast fan of the ATL team, even while she dated New York Knick Amare Stoudemire.
22. Anna Kournikova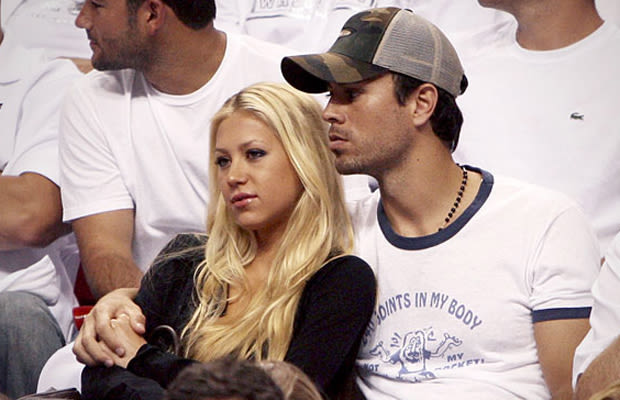 Favorite Team(s):
Miami Heat (NBA)
Dated An Athlete?:
Sergei Fedorov (Former Center, Detroit Red Wings), Mark Philippoussis (Professional Tennis Player), Pavel Bure (Former Right Winger, Florida Panthers)
The former professional tennis player is a huge fan of her now-home town's team, the Miami Heat. With longterm boyfriend, Enrique Iglesias, Kournikova is often spotted courtside watching her team and even admitted to having a huge celebration when Lebron joined the team in 2010.
21. Lala Vasquez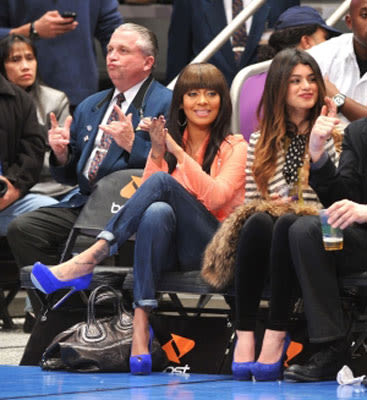 Favorite Team(s):
New York Knicks (NBA)
Dated An Athlete?:
Carmelo Anthony (Small Forward, New York Knicks)
Lala happens to be married to the franchise player of the New York Knicks, which means she definitely gets the red carpet treatment. From custom Knicks Louboutins to courtside seats with Anna Wintour, she puts on for her team and stays on trend—at the same damn time!
20. Mila Kunis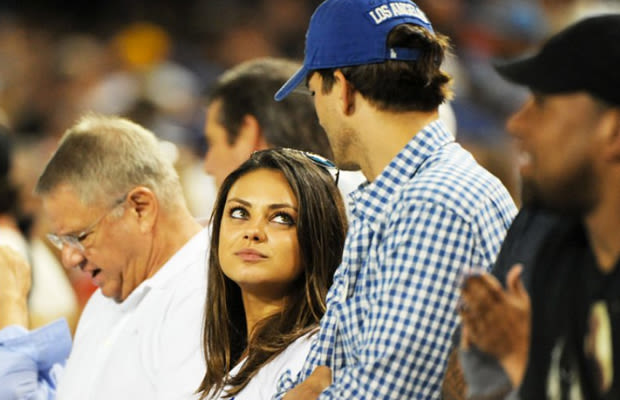 Favorite Team(s):
Chicago Bears (NFL), Los Angeles Dodgers (MLB)
Dated An Athlete?:
No
Kunis' new man, Ashton Kutcher, is currently teaching his
That '70s Show
co-star the ropes of football, and that includes rooting on the Bears in a NYC bar. But Kutcher isn't the only one who knows about sports. Kunis reportedly bought him tickets to her team, the Dodgers.
19. Eliza Dushku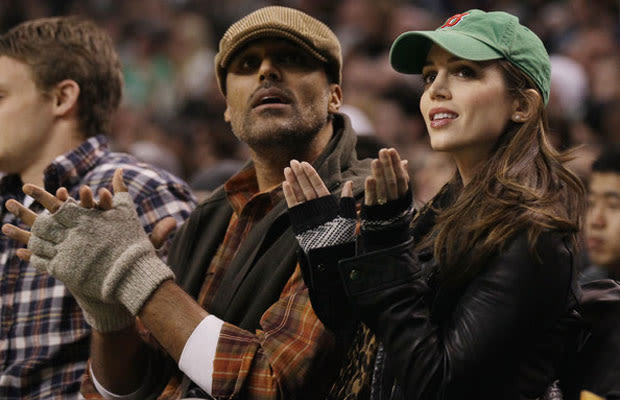 Favorite Team(s):
Boston Celtics (NBA)
Dated An Athlete?:
Rick Fox (Former Small Forward, Los Angeles Lakers)
Eliza Dushku showed off her cheerleading abilities in the high school classicBring It On, so it comes as no surprise that she's a huge sports fan. Considering she's a Boston native, you have to believe she has a spot in her closet reserved for foam fingers and jerseys. In fact, she loves Boston sports so much, she's been dating former Celtic Rick Fox for a few years now, and it looks like they might be starting their own basketball team of children in the future. If that isn't superfan status, what is?
18. Brooklyn Decker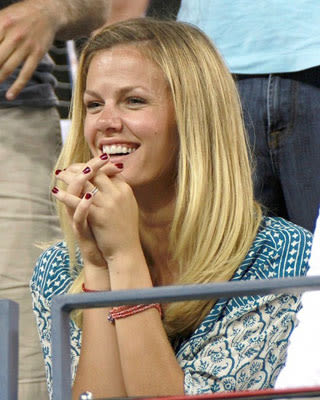 Favorite Team(s):
Andy Roddick (
Tennis
), Carolina Panthers (NFL), North Carolina Tar Heels (NCAA Basketball)
Dated An Athlete?:
Andy Roddick (Professional Tennis Player)
Sure, being married to tennis star makes you a tennis fan default, but Decker was spotted at almost every match her newly-retired husband Andy Roddick played in, including his last U.S. Open. The supermodel isn't new to cheering her favorites on, however. Decker was a cheerleader at Butler High School in North Carolina (which explains her Carolina Panthers fandom) and still occasionally tweets her support.
17. Gabrielle Union
Favorite Team(s):
Miami Heat (NBA)
Dated An Athlete?:
Dwyane Wade (Shooting Guard, Miami Heat)
Union caught some heat when she first started hooking up with Wade because it looked like she was actively trying to break up Wade and his then-wife Siohvaughn Funches, but she eventually cleared her name. Now she's got courtside season tickets booked for the rest of lucrative husband's contract. We're guessing she's got few more rings on the way in addition to her diamond encrusted wedding band.
16. Kim and Khloe Kardashian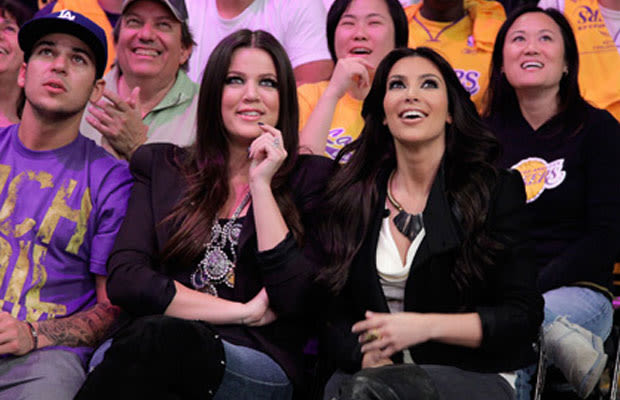 Favorite Team(s):
Los Angeles Lakers (NBA), Dallas Cowboys (NFL), Dallas Mavericks (NBA), New Orleans Saints (NFL), New Jersey Nets (NBA)
Dated An Athlete?:
Kris Humphries (Power Forward, Brooklyn Nets), Lamar Odom (Power Forward, Los Angeles Clippers), Miles Austin (Wide Receiver, Dallas Cowboys), Reggie Bush (Running Back, Miami Dolphins), Rashad McCants (Shooting Guard, Minnesota Timberwolves)
The Kardashian sisters—at least Khloe and Kim—definitely have a thing for ball players. Both have famously carried on relationships with NFL and NBA players, all under the microscope of reality TV cameras. Before Khloe settled down with two-time NBA champion Lamar Odom, she was involved with Rashad McCants, formerly of the Minnesota Tmberwolves.
Kim dated NFL stars Reggie Bush and Miles Austin, and even tied the knot with NBA baller Kris Humphries (only to file for divorce after 72 days of marriage bliss). Nonetheless, all three sisters are sports fans and can often be found on the sideline rooting for Lamar and whoever Kim happens to be dating. So, while they might not be particularly attached to one team, they turn up and show their appreciation for popular sporting events.
15. Adriana Lima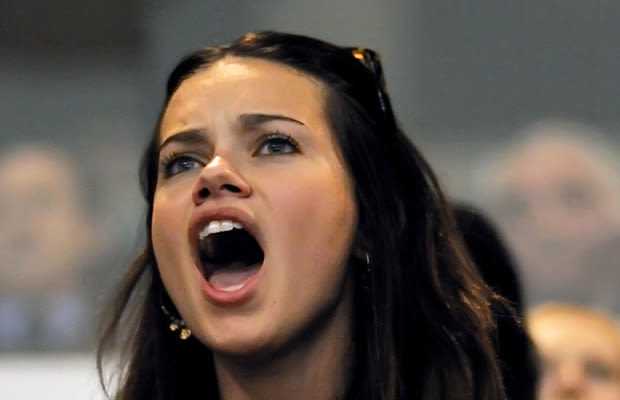 Favorite Team(s):
Inter Milan (Soccer)
Dated An Athlete?:
Marko Jaric (Former Point Guard, Minnesota Timberwolves)
Adriana Lima grew up on in Brazil, so it makes total sense that she would be into soccer. Seeing as how she is one of the top supermodels in the world, it also makes sense that she spends a lot of time in Milan, one of the fashion capitals of the world. Inter Milan happens to be the sqaud she supports. Coincidence? Definitely maybe. But that's beside the point. What we're getting at here is she is a total knockout and she likes sports. Too bad she's married to former Minnesota Timberwolves point guard Marko Jaric. Yeah, we don't remember him either.
14. Minka Kelly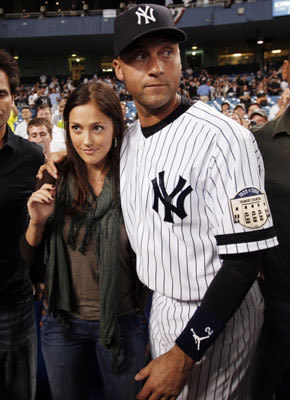 Favorite Team(s):
New York Yankees (MLB)
Dated An Athlete?:
Derek Jeter (Shortstop, New York Yankees)
Although there aren't any confirmed statistics, it's safe to say most female Yankee fans have fantasized about Derek Jeter.
A lucky few
have actually rounded the bases with the future hall of fame shortstop. Minka Kelly is one of the most impressive accomplishments in his illustrious career. The two dated for a little over three years between 2008 and 2011, and in that time Jeter won his fifth World Series ring. Sadly though, Minka didn't get a wedding ring, but she did manage a consolation prize: bragging rights.
13. Charlize Theron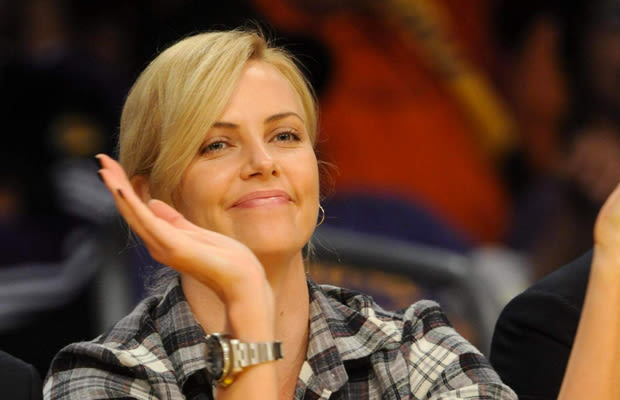 Favorite Team(s):
UFC (Unspecified fighters), Los Angeles Lakers (NBA)
Dated An Athlete?:
No
Theron is frequently seen at Lakers games, but the actress often uses her passion for the game to help her charity. She reportedly auctioned off seats for her non-profit, Charlize Theron Africa Outreach Project, and when asked if she'd accompany the bidders to the game, doubled the price for the tickets. Additionally, Theron
told Conan that she loved UFC
, though she doesn't know what her love of "sweaty, hot men bleeding all over each other and bashing each other in the face" says about her. We'd say it means she's awesome.
12. Stacy Keibler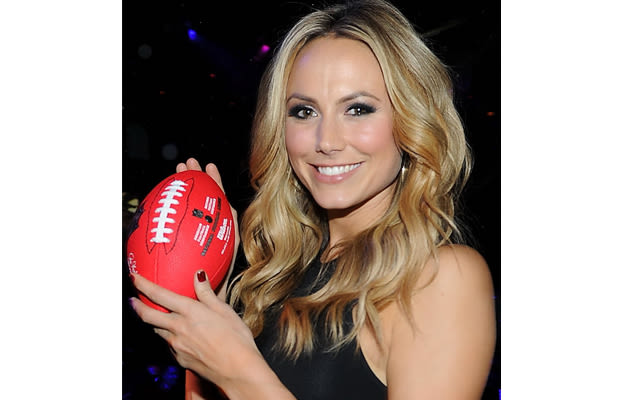 Favorite Team(s):
Baltimore Ravens (NFL)
Dated An Athlete?:
David Flair (Professional Wrestler, WWE), Andrew Martin (Professional Wrestler, ECW)
Keibler started to cheer for the Ravens when she was 18. We don't mean just root for them; she was an actual cheerleader before appearing in the WWE ring and dating George Clooney. As a testament to her dedication, Keibler, who's still seen rooting for Ravens, once used her $10k winnings from becoming a Nitro Girl to buy season tickets.
11. Alyssa Milano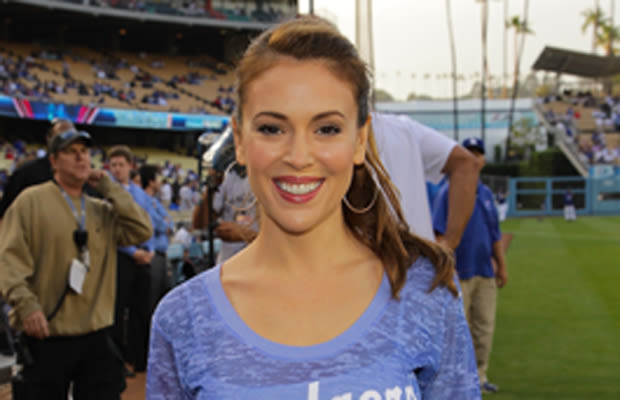 Favorite Team(s):
Los Angeles Dodgers (MLB), Los Angeles Kings (NHL), New York Giants (NFL), Inter Milan (Soccer)
Dated An Athlete?:
Carl Pavano (Pitcher, Minnesota Twins), Barry Zito (Pitcher, San Francisco Giants), Bradley Wayne Penny (Pitcher, Detroit Tigers)
Milano is a sports superfan; she holds season tickets for her beloved team, the Dodgers, and can talk endlessly about the New York Giants' defense. But Milano doesn't just sit in the stands, she's made a business out of being a girl who likes sports. She launched her own clothing line, Touch, which provides girl-sized sports apparel. The
Charmed
actress even maintained
a baseball blog
at one point, and penned the book
Safe at Home: Confessions of a Baseball Fanatic
.
10. Maria Menounos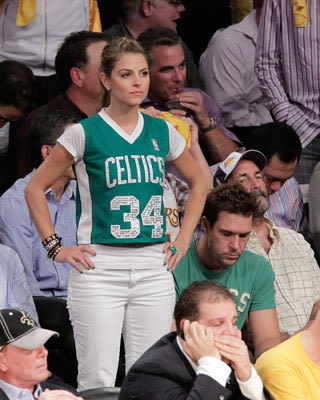 Favorite Team(s):
Boston Celtics (NBA), New England Patriots (NFL)
Dated An Athlete?
: No
Menounos' love for her Boston sport teams has been described as violent. Her reputation during Celtics games is legendary even when she isn't present (like during game six of the Eastern Conference Finals when she sent
a support video
to the team rooting them on). But no matter how much we'd fear her outbursts during games, her loss is always our win—like when she lost a bet and wore a Giants bikini after her New England Patriots lost the Super Bowl.
9. Jennifer Lopez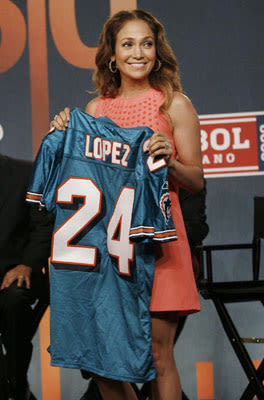 Favorite Team(s):
New York Yankees (MLB), Miami Dolphins (NFL)
Dated An Athlete?:
No
Bronx-native Jenny from the block roots for the Yankees, of course. On her website, she also admits that she owns "over 30 New York Yankees T-shirts, 2 New York Yankees Jersey, 1 Yankees bag, 3 Yankees key chains, [and] 2 Yankees pencils." Given her dedication, we even suspect that her divorce from Marc Anthony might've had a little something to do with the fact that he's a Mets fan. Besides baseball, J-Lo is also in the know on football as she co-owns the Miami Dolphins.
8. Jessica Alba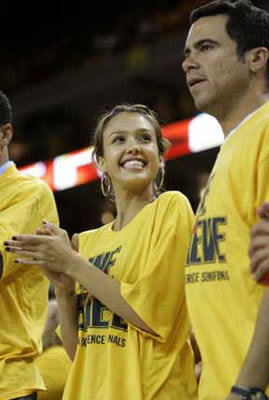 Favorite Team(s):
Golden State Warriors (NBA), Oakland Raiders (NFL)
Dated An Athlete?:
Derek Jeter (Short Stop, New York Yankees)
The Golden State Warriors may not have the winningest record, but they do get to boast about having the hottest fan. Alba is often seen sitting courtside, throwing up that W. When it comes to football, Alba apparently stays bay-side; she's been spotted rocking a
Raider's championship hat
.
7. Marisa Miller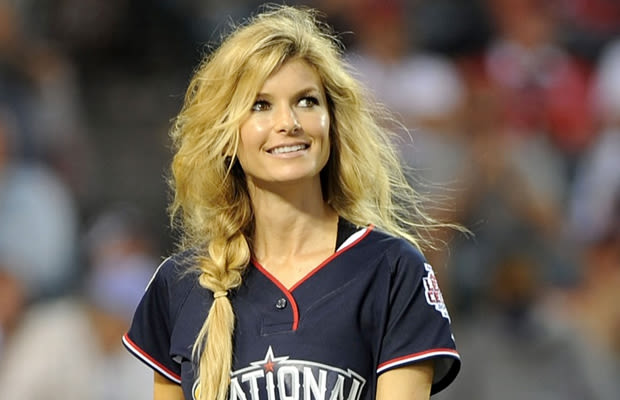 Favorite Team(s):
San Francisco 49ers (NFL), Dale Earnhardt Jr. (NASCAR)
Dated An Athlete?:
Dale Earnhardt, Jr. (Driver, NASCAR)
The northern California native is basically a bro in a
Sports Illustrated
swimsuit model's body. When she's not in the ocean surfing, she live tweets insightful commentary on her favorite NFL team, the 49ers, and calls games better than the dudes in your fantasy league. To add to her super-fan credentials, Miller was named the 2010-2011 NFL spokesperson and did a photo shoot for the organization decked out in all 49ers gear. As for her NASCAR fandom, that seemed to have died down after her relationship with Earnhardt cooled off in 2003.
6. Eva Longoria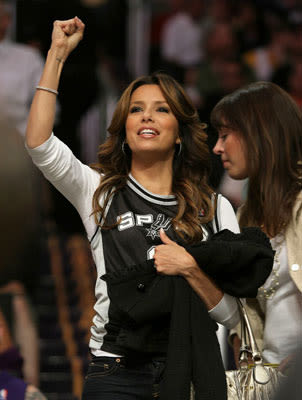 Favorite Team(s):
San Antonio Spurs (NBA)
Dated An Athlete?:
Tony Parker (Point Guard, San Antonio Spurs), Mark Sanchez (Quarterback, New York Jets)
Before Spurs' starting point guard Tony Parker texted another player's wife, he and Longoria enjoyed what seemed to be a happy, successful marriage. This also meant Longoria was frequently seen courtside at Spurs games. Since the split Longoria has been absent from games, removed his jersey number tattoo, and Grizzlies fans have distracted Parker with a giant cut-out of the
Desperate Housewives
star at games. Nowadays, she's dating New York Jets QB Mark Sanchez, but we've yet to see her in the stands.
5. Rihanna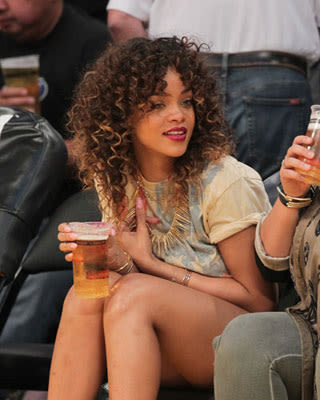 Favorite Team(s):
Los Angeles Lakers (NBA)
Dated An Athlete?:
Matt Kemp (Center Fielder, Los Angeles Dodgers)
Though Rihanna is from a country that lacks any sort of lucrative sports franchise, she has caught on to American culture and chosen L.A. as her sports town. From the Staples Center to Dodger Stadium, RiRi has been there to support her teams.
She's been known to frequent Lakers games (courtside obviously)
, and she has even been romantically linked to Matt Kemp, two-time all-star centerfielder from the L.A. Dodgers.
4. Gisele Bundchen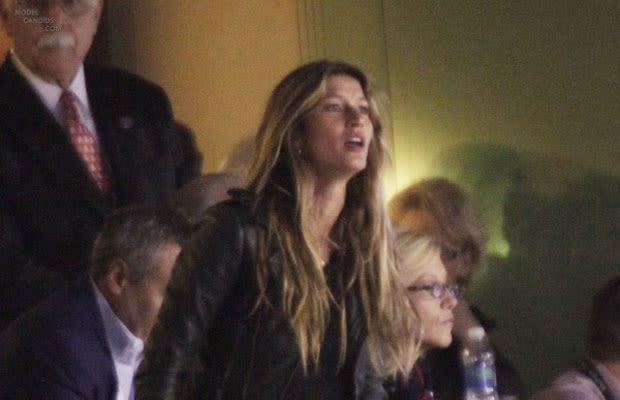 Favorite Team(s):
New England Patriots (NFL)
Dated An Athlete?:
Kelly Slater (Surfer), Tom Brady (Quarterback, New England Patriots)
The super sexy supermodel, Bundchen, is almost always at her husband's, Tom Brady, games. While we're sure she's an amazing support for her beau, less could be said about how she feels about the rest of the team. After the Patriots' upsetting Super Bowl loss earlier this year, and after being taunted by Giants fans, Bundchen lashed out and said, "My husband can't fucking throw the ball and catch the ball," blaming the receivers for the loss. Chock it up to hardcore fan dedication?
3. Beyonce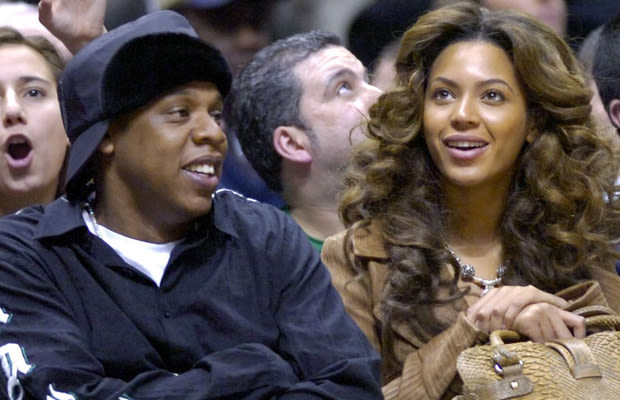 Favorite Team(s):
Houston Rockets (NBA), Brooklyn Nets (NBA)
Dated An Athlete?:
No
Beyonce is from Texas, where sports are a pretty big deal. Her hometown of Houston has teams in three of the four major sports, which made it damn near impossible to not grow up a sports fan, especially when the Rockets won back-to-back NBA titles in '94 an '95. However, her allegiance to Houston has shifted to New York, as her husband, Jay-Z, owns a small stake in the the Brooklyn Nets. Look out for her in the owner's suite at the Barclays Center this coming season.
2. Kate Upton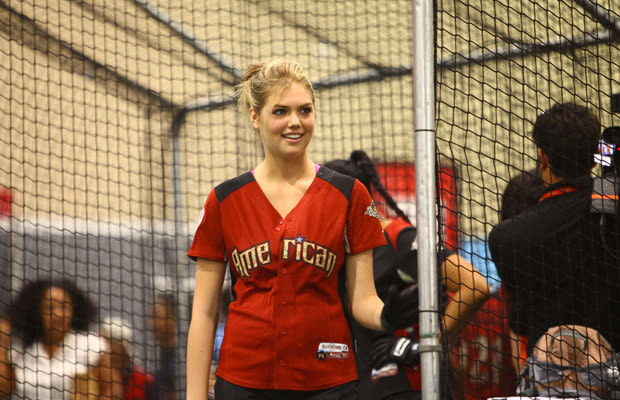 Favorite Team(s):
New York Rangers (NHL)
Dated An Athlete?:
Mark Sanchez (Quarterback, New York Jets), Justin Verlander (Pitcher, Detroit Tigers)
Kate Upton seems like a really fun girl who would be down to go to sporting events not to be harassed by the paparazzi, but to actually take in the atmosphere
and enjoy the game
. Being one of the hottest supermodels in the world has its perks, too, like having a lot of famous friends, some of whom are pro athletes who may or may not want to be more than than just friends. She's been linked to New York Jets quarterback Mark Sanchez and, most recently, Detroit Tigers pitcher Justin Verlander, but there hasn't been any concrete evidence to confirm any of the relationship rumors. Considering she's a fan of the New York Rangers, it's only a matter of time before an NHL player gets thrown into the mix. The hardships of being a supermodel.
1. Paulina Gretzky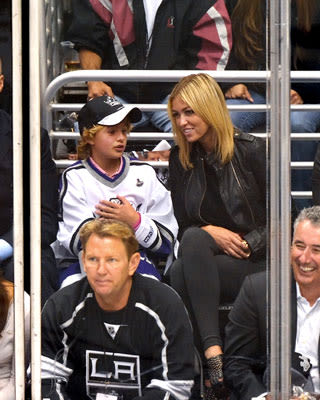 Favorite Team(s):
Los Angeles Kings (NHL)
Dated An Athlete?:
Jarret Stoll (Center, Los Angeles Kings)
When you're the daughter of the greatest hockey player to ever lace 'em up, it's pretty much a given that you'll grow up to be a huge sports fan. Such was the case for Paulina Gretzky. Peep the last name. Yeah, she's Wayne Gretzky's daughter. You know, "The Great One." You might have noticed her on Instagram, Twitter, or even in
Complex's August/September issue
. Whatever the case may be, one this is certain. She is ridiculously hot, and the fact that her father is a living legend only adds to her already massive appeal. And if you're still skeptical about her fandom, peep the "99" tattoo strategically located below the belt.